Rosie Supporting the Constituents of District 2
Rosie Introduces Legislation to Extend the Appeals Period for Board of Standards and Appeals Decisions
On Thursday, February 26, 2014, Rosie introduced a bill that would extend the period of time to appeal a Board of Standards and Appeals (BSA) decision. Currently, anyone wishing to appeal a BSA decision has only 30 days from the date of the decision to file an Article 78 in Supreme Court. This legislation would extend that period to 120 days, which would be consistent with the Civil Practice Law and Rules (CPLR). This proposed legislation is important because most people wishing to appeal these decisions are rent stabilized tenants who do not have the resources to have an attorney in place who can file the requisite paperwork within 30 days. The proposed agenda legislation would make the amount of days that someone can file an Article 78 the same irrespective if the decision was made by another city agency or the BSA.
Tenants Association Meeting at 344 E. 28th Street
On Thursday, January 29, 2015, Rosie attended a Tenants Association meeting at 344 East 28th Street. At the meeting, tenants raised concerns regarding security in the building, specifically in the lobby where unauthorized tenants who are allegedly engaging in illicit activities are convening daily during the daytime hours when a security guard is not on duty. Rosie has promised to work with the Tenants Association, the 13th Precinct, and NYCHA to determine how to increase security in the building.
NYCHA Testifies at NYC Council Public Housing Committee Hearing Regarding its Public-Private Partnership
On Tuesday, February 10th Rosie joined her colleagues of the Public Housing Committee in hearing regarding NYCHA's sale of it Section 8 buildings to a newly created public/private venture. The hearing took place in the Council Chambers of City Hall in which residents of the NYCHA impacted developments, including those from Campos I (635 East 12th Street and 205 Avenue C) and 4th Street Rahab were present to testify. NYCHA's Chairperson Shola Olatoye was present to give opening statements and answer questions posed by the Councilmembers. During the hearing Rosie raised many concerns which included the lack of transparency and communication between NYCHA and residents of District 2. Rosie questioned NYCHA around when meeting were held so that the residents from Campos I and 4th Street Rehab could ask questions and get answers, but NYCHA could not confirm when the meetings actually took place. Rosie is concerned that NYCHA's meetings regarding the transfer of Section 8 buildings were actually the meeting held for its infill development plan. She requested all the attendance sheets with dates of the Section 8 meetings with her residents.
Brookdale Campus Sanitation Garage – Working Group
On February 4, 2015 at the Community Board 6 Land Use Committee Meeting, EDC presented their proposed development plan for the Sanitation Garage to be built on the Brookdale Campus site. At this meeting, EDC shared its plan to convene a working group of CB 6 members, CB8 members, elected officials and community stake holders to determine, as a group, the best use for the bookends. In addition to the initial working group members proposed by EDC, which included members of the CB6 steering committee that put together the Brookdale Site Study, Rosie offered additional suggestions of stakeholders and groups with ties to this community to ensure that the working group could develop comprehensive recommendations to guide the framework for the bookend sites. A Town Hall meeting is expected to be held within the next few months for all community members to voice their opinions and concerns over the proposed suggestions for this site. While Rosie is supportive of the Community Board 6 197-a plan, she is hopeful that this working group, which represents this community, will provide the foundation to ensure that the bookend sites are used in a manner that will be consistent with what this community wants.
Rosie Standing Together with Colleagues
Rosie Joins Colleagues and Advocates to call for the Elimination of the 421-A Program
On January 29th 2015, Rosie joined housing advocates and colleagues from the NYC Council to call for an end to the 421-a tax exemption program. This program is one that produces little affordable housing. 421-A costs the city $1.1 billion a year, and that cost has more than quadrupled in the last ten years. The most affordable units created under 421-a are targeted for households earning about $45,000 per year (for a family of three). Thus more than 40 percent of households in New York City are too poor for this housing. These are the very households that need affordable housing the most. The tax abatement was created in the 1970s to spur residential construction at a time when the entire city was seen as a risky investment. The city looks very different now, and a tax incentive for investment here is not needed. Luxury housing produced through 421-a may lead to increased market pressure, higher rents, and displacement in surrounding neighborhoods such as downtown Brooklyn, Western Queens, and Harlem. Rent regulation is a far more cost efficient affordable housing program, and we need to make sure that that program is strengthened in the upcoming year.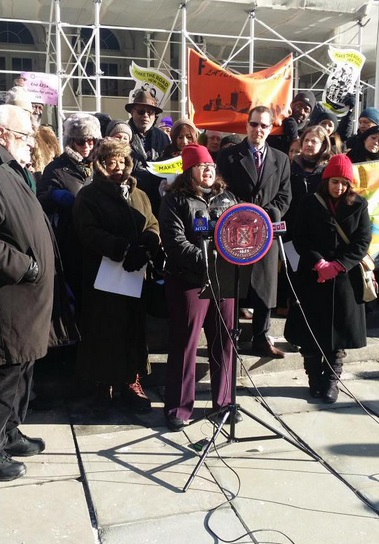 Rosie and her Colleagues of the Black, Latino, and Asian Caucus Sponsor Black History Month Celebration
On February 12th Rosie and her fellow members of the Black, Latino, and Asian Caucus held a Black History Month Celebration in the Chambers of City Hall to honor individuals for the work they have done in New York City and beyond. The event started with the amazing voices of Marie-Claire singing the National Anthem and Ayo Harrington singing Lift Every Voice. The NYC Council was also honored by the presence of Restoration Dance Theatre who gave two amazing dance performances to celebrate this month. Rosie raised the need to celebrate communities of color all of the time and not solely during one month.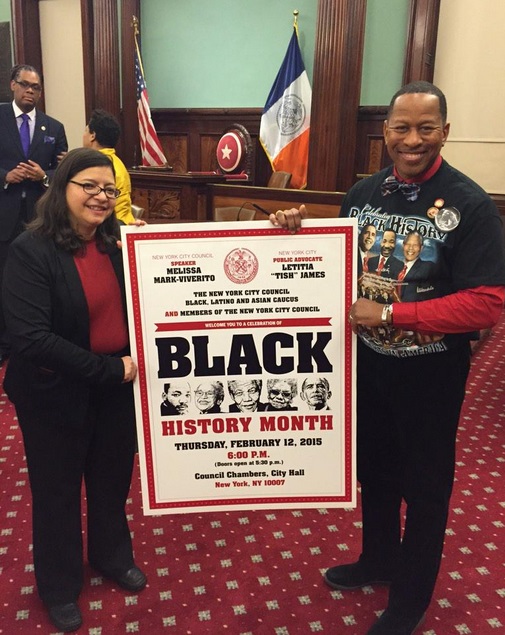 Rosie Making Moves in LGBT Issues
The NYC Council Sponsors a LGBTQ Youth Summit
On January 18, 2015, the members of the NYC Council LGBT Caucus and Speaker Melissa Mark-Viverito sponsored a LGBTQ Youth Summit in collaboration with the Hetrick-Martin Institute located in Rosie's district. The day long summit brought together LGBTQ youth from across New York City to speak and learn about HIV / AIDS, Youth Organizing, their rights while hanging out on the streets, leadership development, self-defense practices, and other skills. About 40 organizations submitted applications to conduct workshops for young people. Rosie along with her colleagues Danny Dromm, Jimmy Van Bramer, Carlos Menchaca, and Ritchie Torres spoke to the young people about their experiences growing up and in the Council as a Gay / Lesbian Identified Councilmember. The summit brought together over 150 young people and was a huge success.
For more information about LGBT events and work in Rosie's office, please contact 212-788-7366 and speak with John Blasco.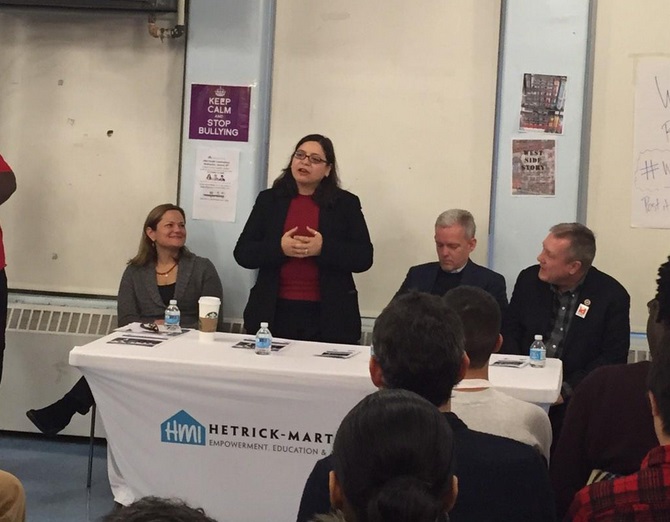 Rosie Visits East Side Community High School for Respect For All Week 2015
On Friday, February 13th Rosie took a trip to visit the students at East Side Community High School to honor Respect For All Week 2015. The NYC DOE launched the citywide Respect For All program in 2007 to build the capacity of staff and students to actively promote a community of inclusion in each of our schools. The NYC DOE began a citywide effort to promote respect for diversity and combat harassment, discrimination and bullying. The goal of this work is to ensure that every NYC school provides a learning environment where all children feel safe, valued, and respected. The LGBT Caucus of the NYC Council pledged to attend a school in their district to honor the week. The students at East Side Community High School discussed with Rosie a book they finished reading in class called "Totally Joe," a book about a young boy coming out with his sexuality. Rosie was able to share her personal coming out story with the students and answered questions regarding politics, sexuality, gender identity, and other pressing issues.
Updates on the Board of Standards and Appeals
BOARD OF STANDARDS AND APPEALS UPDATES – 11 Avenue A
On Friday, January 30, 2015, Rosie submitted testimony to the Board of Standards and Appeals in opposition to a waiver being sought by an applicant for the premises located at 11 Avenue A. The waiver being sought would allow the applicant to construct multi-family residential units which is contrary to zoning. The property is a commercial three-story walk-up on a lot area of 1,500 square feet and the zoning district prohibits multi-family residential use for parcels of land with a lot coverage less than 1700 square feet, and the square footage of the premises at 11 Avenue A is 1500 square feet. Currently, the applicant can construct two residential units as of right; however, the waiver being sought would permit the applicant to construct five 1-bedroom units and one 2-bedroom unit. Rosie's testimony in opposition of this waiver raises numerous arguments, which include, (1) Community Board 3 opposed the applicant's proposed development plan in July 2014 because the applicant was not seeking the minimum relief necessary to realize a reasonable return by failing to include financial figures for four dwelling units, and (2) the applicant submitted an area study as part of their supportive documentation that demonstrates the number of buildings that have a lot area of 1,500 square feet or less and have more than two dwelling units, yet the applicant fails to mention whether the properties with more than two dwelling units received waivers from the BSA or whether the excess dwelling units that are contrary to zoning are permissible because they were constructed prior to the Zoning Resolution and are therefore grandfathered in. At the hearing, the BSA board asked that the applicant provide the board with the financial details for four dwelling units, the board also asked that the applicant provide documentation explaining how they would comply with the Multiple Dwelling Law requirement of having an elevator, as is required for buildings with multi-family residential units. This case will be heard again at the March 24, 2015 hearing.
BOARD OF STANDARDS AND APPEALS UPDATES – 11 Avenue C
Rosie, Community Board 3 and various local community groups submitted testimony to the Board of Standards and Appeals in opposition to two waivers being sought by the new owner of 11 Avenue C, 350 East Houston LLC. The premises were formerly operated by a Mobil gas station until September 2014. The proposed development of the property is a ten-story mixed use residential building. The owner sought waivers because of the unique shape and conditions of the property, a small and narrow irregularly shaped lot. The first waiver sought would allow for commercial use, meaning retail space, on the ground level, which is currently zoned for Community Facility Use. The second waiver would allow for premises to be built beyond the permissible lot coverage, increasing the Floor Area Ratio (FAR) from 5.4 to 7.2. Rosie opposed both waivers because Community Facility use on the ground level is necessary to preserve the character of her district as development of the area continues and because increasing the FAR without incorporating any affordable units on-site is inconsistent with the needs of the community. Unfortunately, the waivers sought by the owner were approved by the BSA unanimously at the January 30, 2015 hearing, but Rosie will continue to submit testimony in opposition of proposed development projects that are denied by Community Board 3 and the community that seek to destroy the character of this community.
Community Alerts!
Presentations on the East Side Coastal Resiliency Project
The NYC Mayor's Office Recovery and Resiliency, NYC Department of Design & Construction, and the Parks Department are co-sponsoring an East Side Coastal Resiliency Project presentation for two days. Following HUD's Rebuild by Design competition, NYC is working to reduce the risk of extreme weather. This project focuses on neighborhoods near the East River between Montgomery and 23rd Streets. The first community engagement session will be held Thursday, March 19th at Bard High School Early College: 525 East Houston Street. The second community engagement session will be held on Monday, March 23rd at Washington Irving High School: 40 Irving Place. Doors open both nights at 6:30pm and the presentation begins at 7pm.
Summer Youth Employment Program
NYC Department of Youth & Community Development (DYCD) will be accepting applications for the Summer Youth Employment Program (SYEP). SYEP provides youth between the ages of 14-24 with paid summer employment and job readiness training for up to 6 weeks in July and August. The deadline to submit applications is April 10, 2015.
Programs are located in community-based organizations across the five boroughs and participants are selected by lottery. DYCD also offers specialized programming for disabled, foster care, runaway/homeless and court-involved youth. Additional information about SYEP, including applications and flyers, can be found on DYCD's website at http://www.nyc.gov/dycd.